VARSO Place model
Interactive urban model of downtown Warsaw, Poland
Getting detailed urban data from a foreign city is not a problem for us. For example, for the interactive model of Warsaw, Poland, we modeled all the buildings in high detail and simulated realistic urban flows, including individual traffic and public transport with real timetables.
We took the effort to make it possible to efficiently present one of the most important property development projects of these years in the entire Europe – Varso Place, which includes the tallest building in the EU – the Varso Tower (310 m / 1017').
Assignment
HB Reavis approached us requesting us to create an interactive model of Bratislava that would help them present their current and future real estate development projects. We took the challenge to combine a spatial model with a software solution in a way that enables to show the current city together with a vision of its future.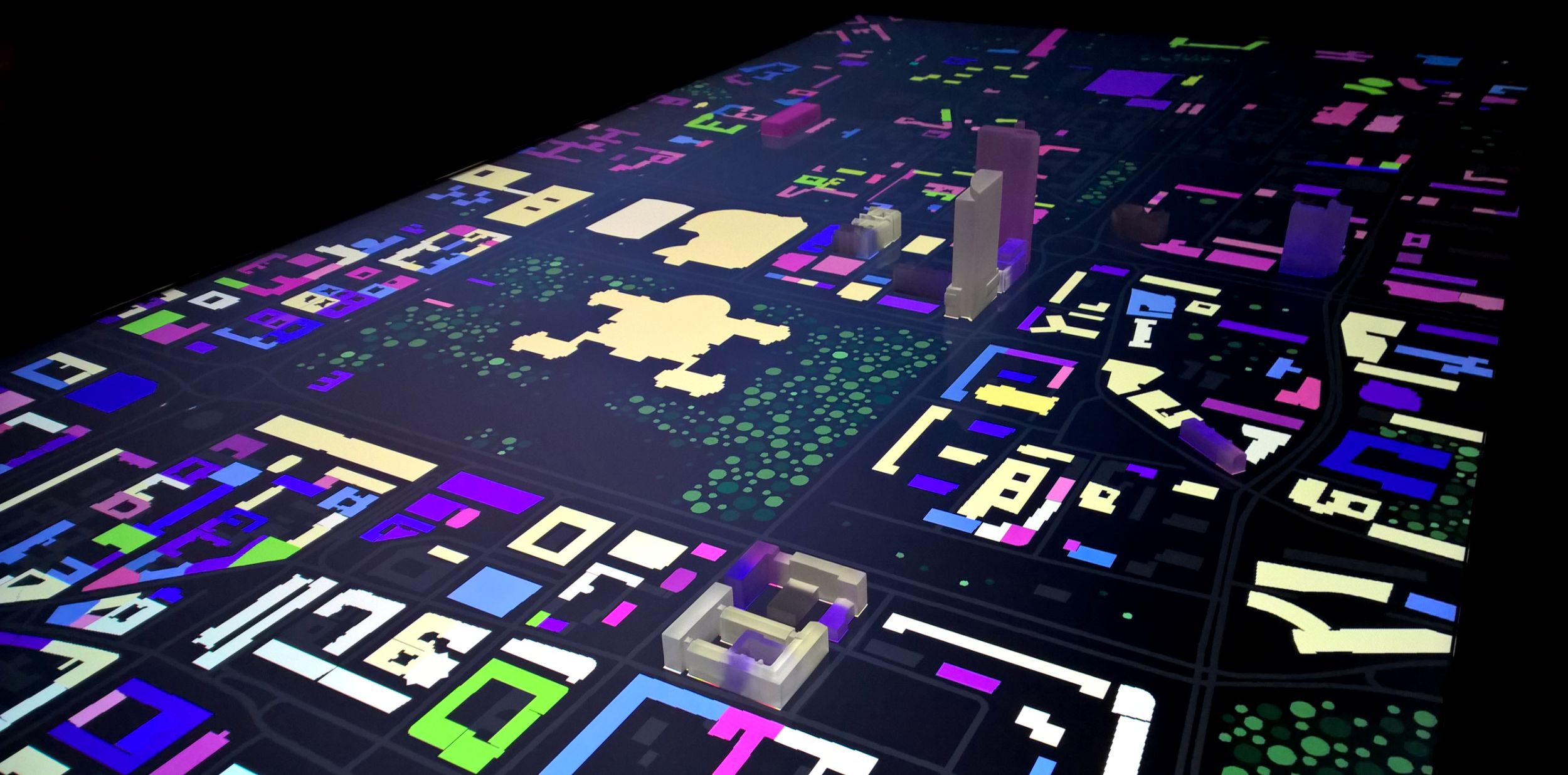 The iPad controller can be used to highlight Individual buildings, supermarkets, or public transport lines. Detailed information about the selected features is shown on a context screen next to the model.
Technical specifications
Width 1,100 mm / 3' 7"
Length 1,800 mm / 5' 11"
Height 900 mm / 2' 11"
Weight 100 kg / 220 lbs
Material and production
plinth made of lacquered wood and stainless steel
75" 4K display
400 buildings 3D printed in high detail
40 animation effects
iPad controller application
external context screen
Technological solution
The model consists of two layers: a 75" 4K screen and transparent high-resolution 3D models. We added another 85" screen displaying detailed information about the public amenities around the highlighted buildings.
Service
The model comes automatically with a simple updatability and emergency service throughout the entire lifetime of the project.
Software solution
The transparent model is underlit by an interactive animation, which highlights buildings, locations, or public transport lines. The presentation guide can select any of these features via an iPad application and this way present the Varso Place buildings, as well as traffic hubs in the vicinity or the direct connection with the Warsaw airport, railway station and bus station.
Features
You can select entire city blocks or individual buildings to be highlighted in full-color animations.
The Varso Place can be highlighted and presented individually.
It is possible to display various functional zones, recreational areas, parks, playgrounds and sports areas.
The software simulates public transport in its real timelines and shows real-time departures from nearby stations.
The animation can highlight important public amenities, such as office buildings, post offices, schools, but also restaurants or cultural facilities.
The model is controlled via an iPad app and additional information is displayed on an external context screen.
---