Eurovea Tower model
An interactive model of the first Slovak skyscraper.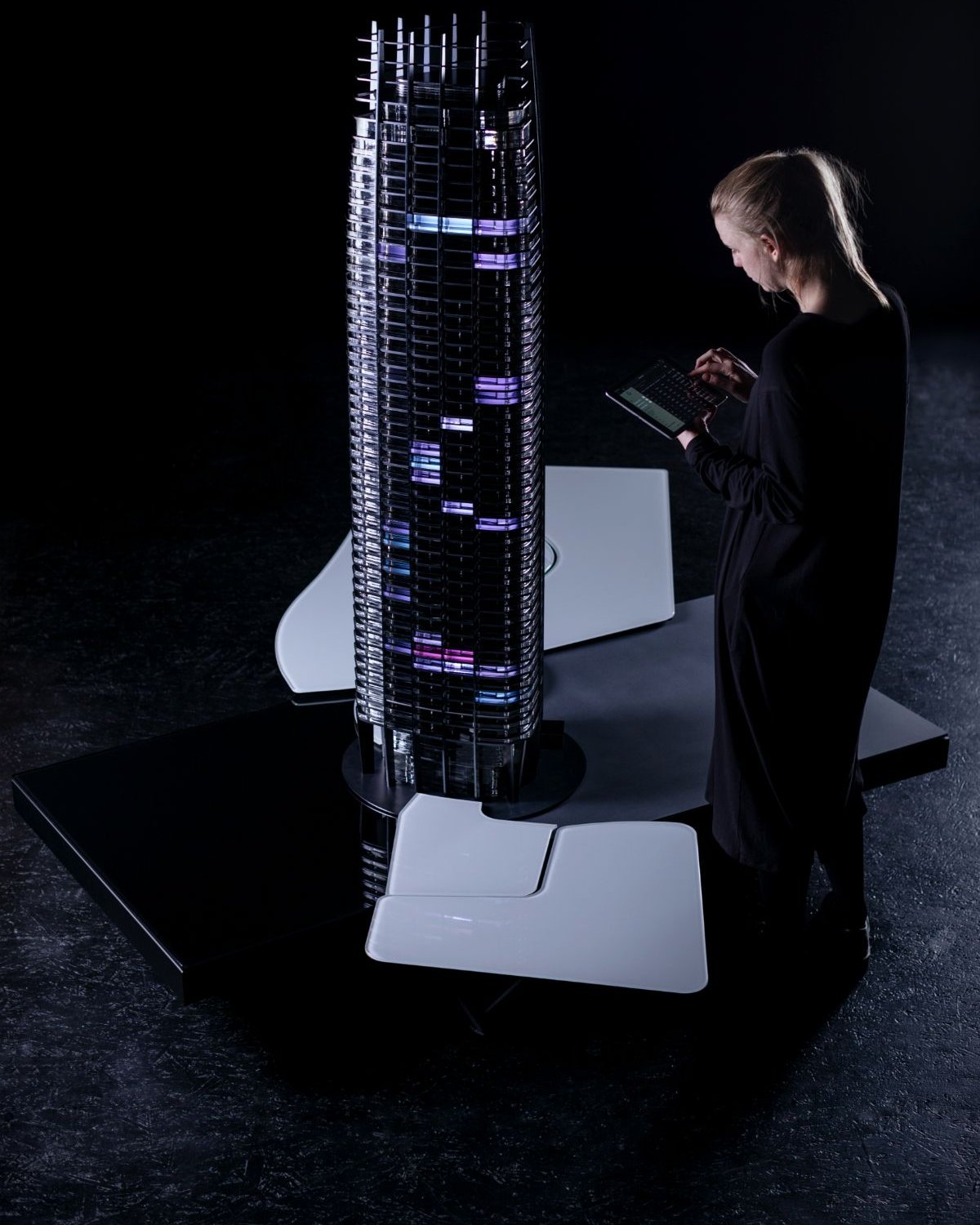 Bratislava is getting ready for its new landmark. A new skyscraper is emerging on the of the river Danube next to the Eurovea shopping mall. The apartment sale began along with the excavation works. The&nbspproperty developer needed a powerful marketing and communication tool: a sculpture, an architectural model that would not only represent the shape of the building but also provide extra information using animations and lighting.
Assignment
Our client JTRE was looking for an attractive marketing tool to present their upcoming project, Eurovea Tower. It was supposed to&nbspserve as a&nbspsupport tool for selling the 350 apartments in the&nbspemerging building. We realized that the first skyscraper in&nbspthe&nbspcountry deserves more than just a&nbspdownscaled model. We started to create a&nbspsculpture, a&nbsppiece of art representing timelessness, luxury and technological superiority of the architecture itself.
Year: 2019
Type: Interactive model
Stage: Design and implementation
Photo: Petra Rjabinin
A marketing tool supporting the sales of 350&nbspluxurious apartments.
The model is controlled via an intuitive app, that triggers animated highlighting of individual apartments and their groups, as well as filtering and highlighting based on parameters such as&nbspnumber of bedrooms, area, availability or&nbspprice.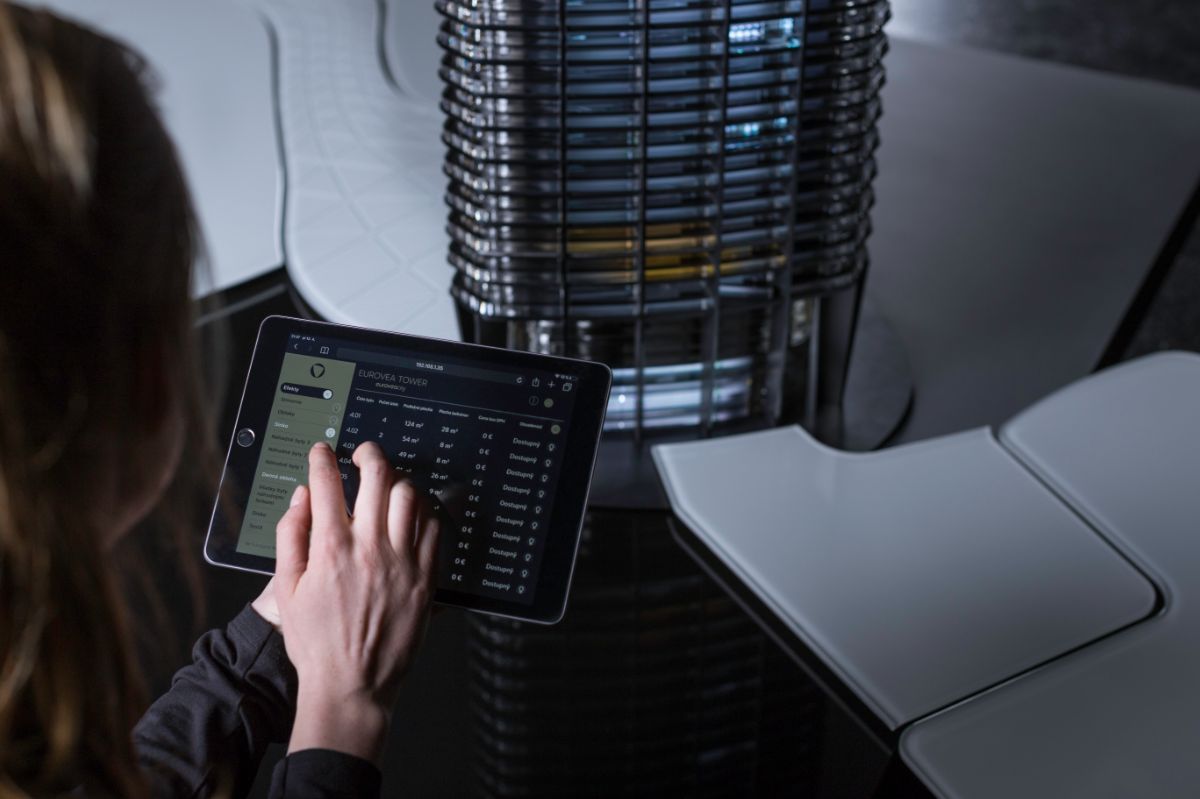 Technical solution
From the very beginning, we saw the object as a slender iconic monument reaching high in the sky. We employed its vertical ribs crossing the layers of horizontal floors as a dominant visual trait. We&nbspwrapped the internal core of the model with a custom-made LED&nbspdisplay so that it can be used for presentations with animated visual effects. This allows us to highlight individual apartments or entire floors and immerse the building into ambient effects simulating sky conditions and weather moods. The effects are being generated by&nbspour&nbspcustom software engine and controlled by an&nbspiPad&nbspapp with a&nbspuser-friendly interface.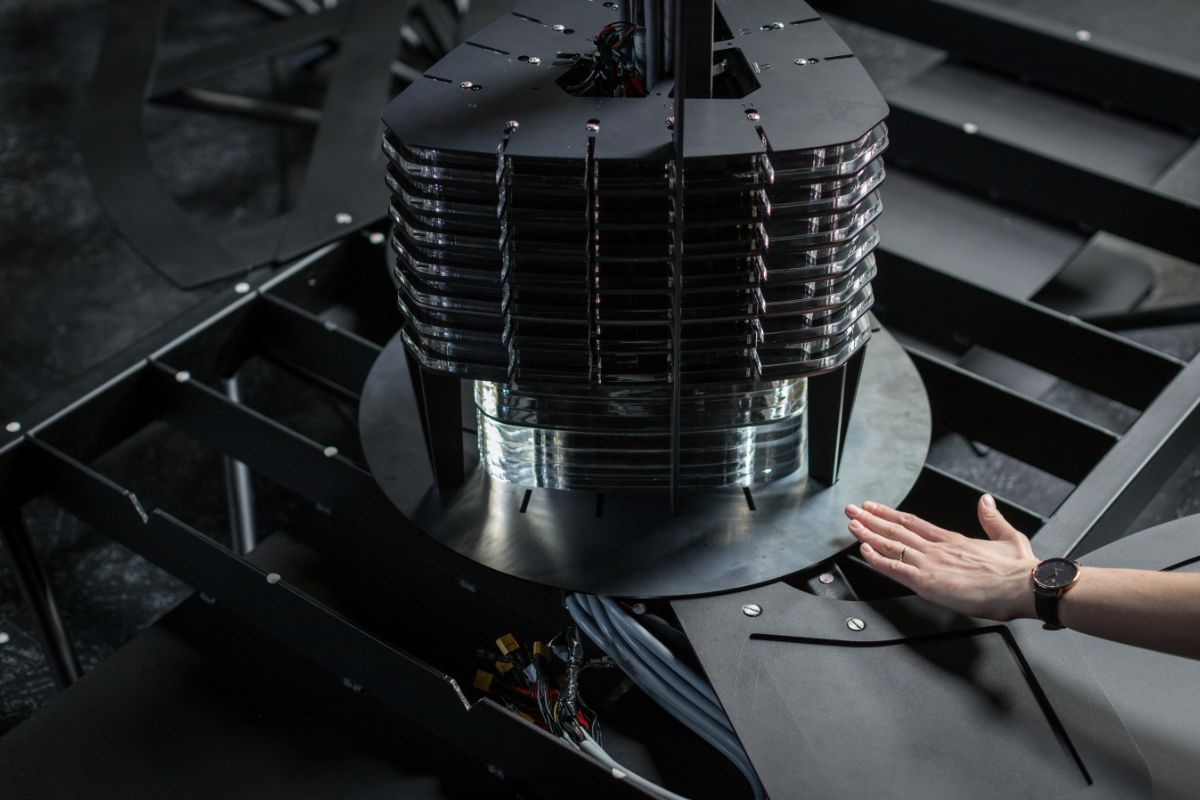 Materials
We chose the materials so that they meet our durability expectations and match the overall feel of a luxurious art piece – a sculpture. The&nbspmain frame, laser-cut from sheet steel, is complemented with glass and acrylic parts. Thanks to rigorous parametric computational design and precise digital fabrication, we were able to clear the&nbspmodel from excessive technical details. Each piece falls perfectly into its place and the&nbspentire model can be put together like a giant game of Tetris.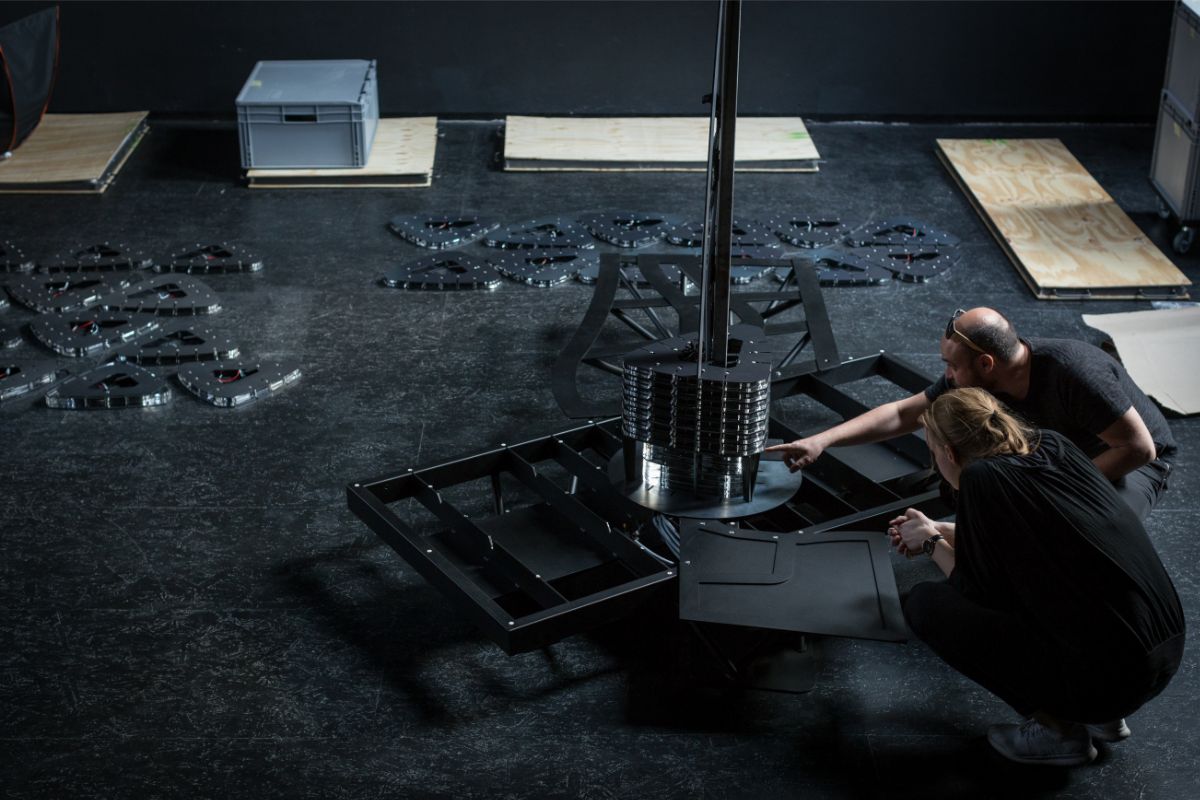 Transportability
Convenient transportability was a crucial requirement for the model. As a marketing tool, it travelled to several trade fairs, exhibitions, and showrooms. It was possible thanks to a simple disassembly and assembly process. We equipped the model with transportation cases, protecting all its parts including electronics, small and fragile parts and contact surfaces with delicate finish.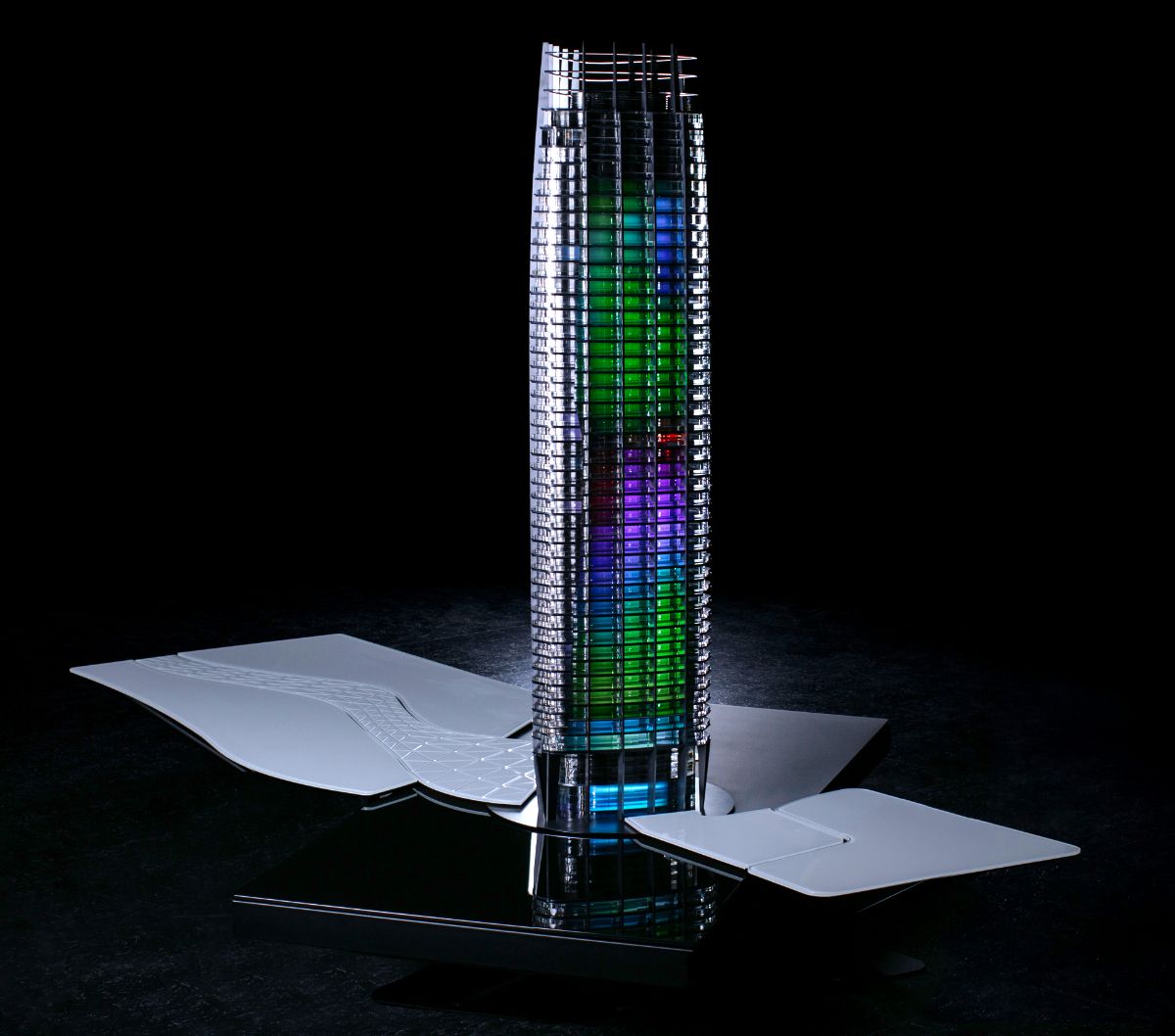 Features
The model is controlled via an intuitive iPad app.
The presenter can highlight specific apartments, filter them according to various parameters, such as number of bedrooms, area, availability or price.
For a complete immersive experience, it is possible to apply ambient effects simulating daylight, night sky, sun reflecting in the&nbspfacade, clouds and more.
The surroundings of the buildings are visually simplified. The&nbspinfrastructure and adjacent buildings are indicated in simple flat shapes, which lets the dominant tower stand out.
The elegant plinth is made of horizontal boards and a&nbspgroup of&nbspinclined pillars, inspired by the&nbspintertwined roots that support the&nbspbuilding. They are parametrically optimized so that they appear like a&nbspcomplicated tangle although they were assembled from simple elements. Every detail matters.
The model consists 46 modules corresponding to the individual floors, which makes it simple to assemble, transport and maintain.
Technical specifications
46 floors
3,500 pieces
5,000 LED pixels
width 2,000mm / 6' 7"
length 3,000mm / 9' 10"
height 2,000mm / 6' 6"
Material and implementation
laser-cut steel frame
glass and acrylic detailing
apartments underlit with addressable RGB LED pixels
steel plinth with a parametrically optimized structure of pillars
iPad controller app
transportation cases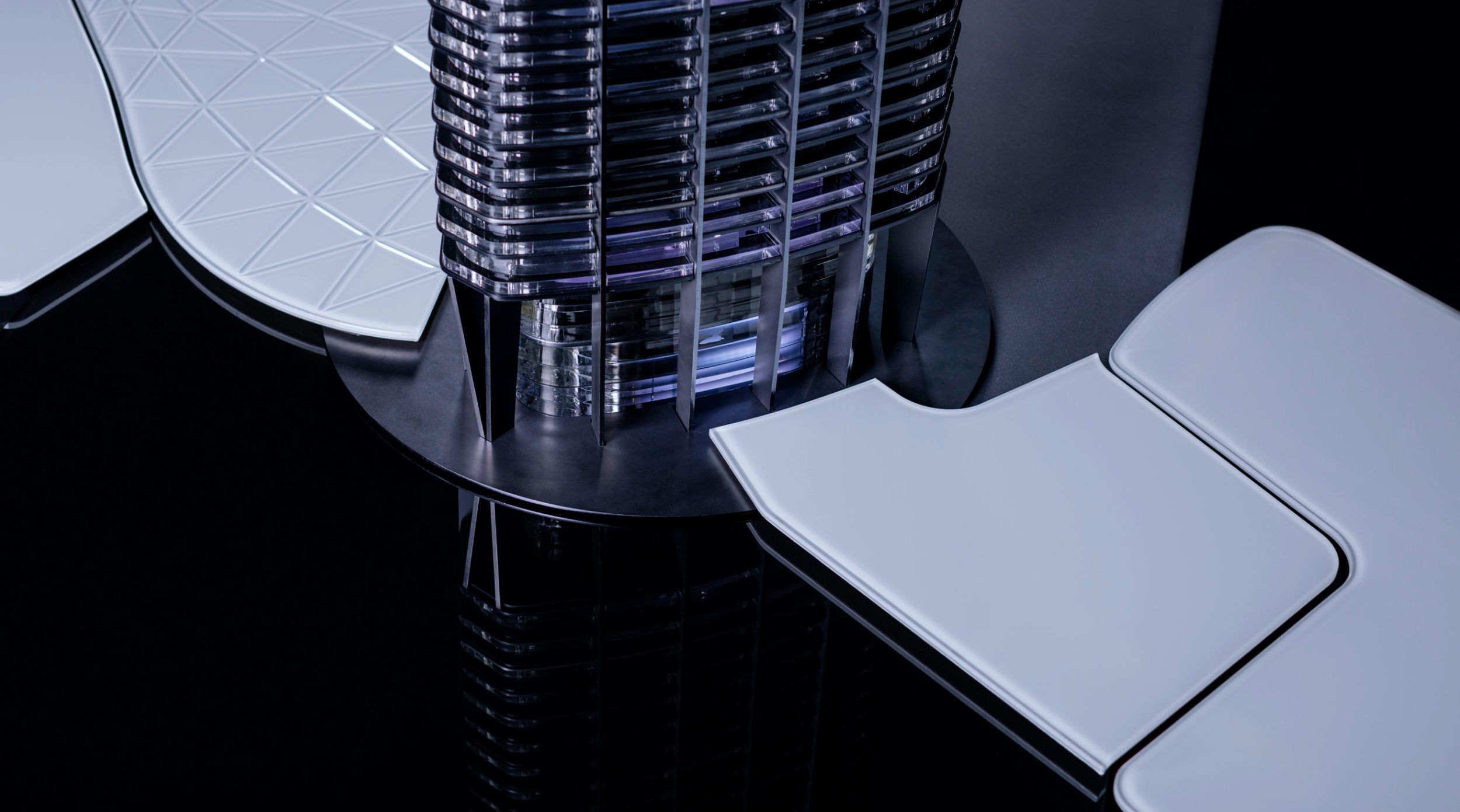 The floor modules are stacked one on top of&nbspanother along the central core. The core also houses power and data wiring so that they are properly hidden.
Individual parts are put together either by&nbspa&nbspsimple click or with small bolts so that the&nbspmodel forms a single firm piece. The number of&nbspelements forming the model requires the&nbspfabrication precision to fractions of&nbspa&nbspmillimeter.
Public presentation
IXPO 2019, Bratislava, Slovakia

The largest festival of technology in Slovakia where the model was displayed publicly for the first time.

Days of Architecture and Design 2019, Bratislava, Slovakia

Public exhibition in the courtyard of the city hall.

Nuit Blanche 2019, Bratislava, Slovakia

Enhanced with a special interactive animated game created at&nbspth&nbspevent of the famous festival of light.

JTRE showroom, Bratislava, Slovakia

The model became a permanent centerpiece of a showroom for&nbspa&nbspmajor property developer.
---