BRATISLAVA 2022 MODEL
Interactive urban model of Bratislava, Slovakia
How can we present the largest real estate development project in&nbspEurope (according to the Property EU chart) and explain its connection to its surroundings using a single model? We combined our architectural experience, urban data and software solutions in a unique large-scale model, offering an immersive technological experience of architecture and everyday life in the capital city of Slovakia.
Assignment
HB Reavis approached us requesting us to create an interactive model of Bratislava that would help them present their current and future real estate development projects. We took the challenge to combine a spatial model with a software solution in a way that enables to show the current city together with a vision of its future.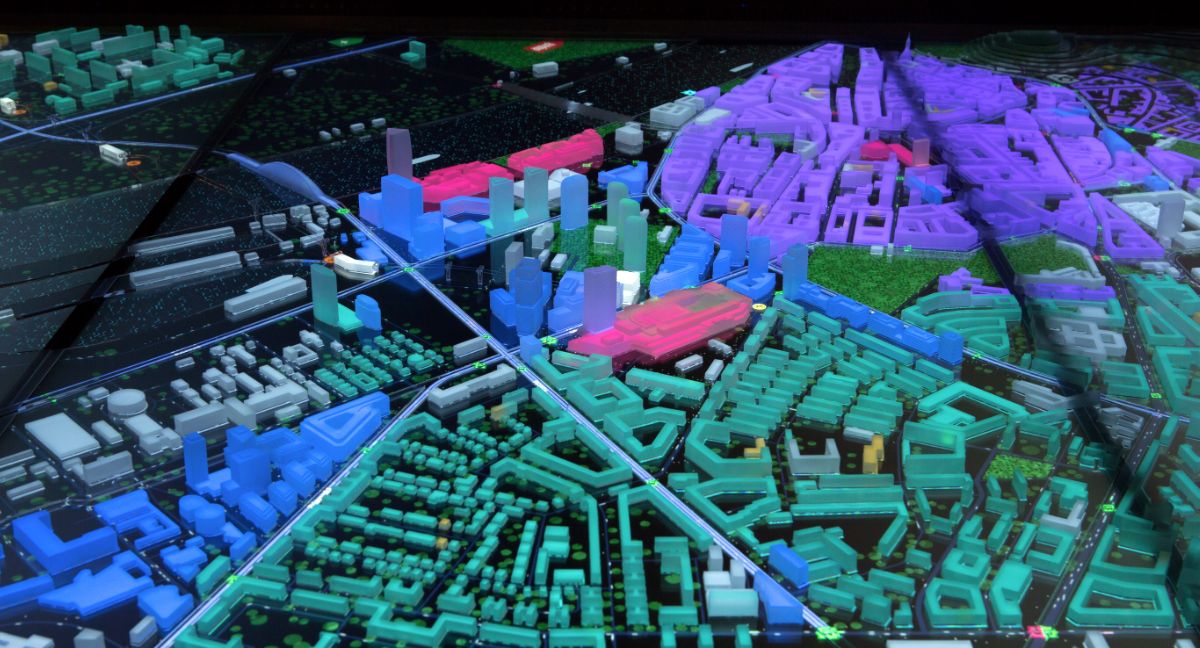 This model serves as a presenting tool for the properties in the Nove Nivy area and the entire new downtown of Bratislava, Slovakia, housing over 70 new companies with 33.000 seats and 14.000 new residents.
Software solution
Three large high-resolution displays underneath the transparent urban model show an interactive animation of the city. The animation renders buildings, roads, the river, parks, as well as cars, buses, trams, pedestrians and even trees at their real positions. The iPad controller makes it possible to highlight supermarkets, offices, restaurants, cafés, bus stops and specific developments of the client – HB Reavis. You can also highlight entrances, access roads and paths to the client's buildings from various directions. All such effects are fully animated and it is possible to combine them according to one's wishes. The map also includes a detailed text and imagery as a legend to the currently highlighted urban features. A companion screen shows a slideshow of images and videos related to the selected map effects. The model can switch between more languages and live data is being automatically updated. The client can edit and update text, graphics and effects features remotely over the internet.
Service and modularity
When designing the model, we already considered its transportability, simple servicing and update possibilities. All of that is a natural part of our delivery.This model comes with custom-made transportation cases, which make it possible to transport it even on long distances abroad.Thanks to our modular solution, it is possible to modify and update parts of the software, hardware, plinth and even the urban model itself. Our client gets a product that is easy to maintain and keep constantly up-to-date.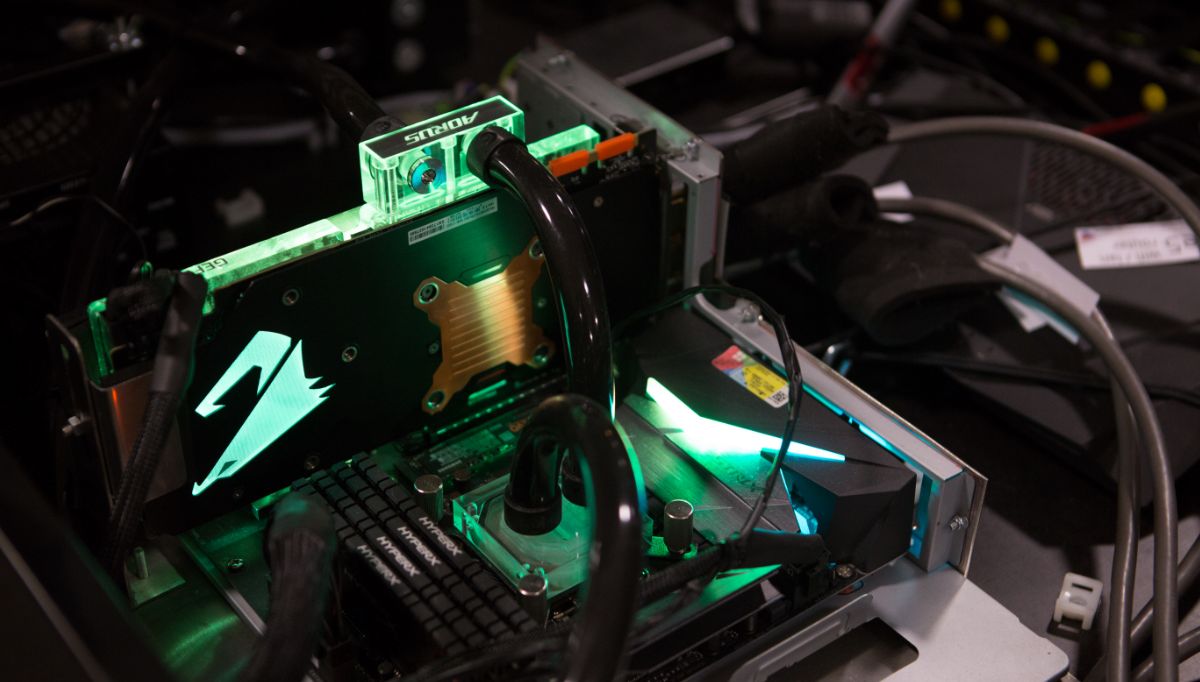 Technological solution
The model consists of a plinth hiding several computers and other equipment securing the computation power to run a smooth data animation in 3 x 4K resolution.
The central load-bearing part is made of steel legs. We have optimized their shape and position using a parametric software. The screen consisting of three 4K displays is set into the frame made of receding layers of wood, glass, and steel. Hence, the top part of the model looks slender and pure. The model has become a centerpiece of the headquarters (Top Office of 2020) of the largest property developer in Slovakia.
Features
Advanced highlighting of entire urban districts and blocks.
Client's buildings can be highlighted individually.
Animated patterns of recreational areas, parks, playgrounds, and sports areas.
Displays accessibility on foot, main arterial roads and entrances for cars and cargo.
Simulations of public transport, railways and waterways in their realistic trajectories and timetables.
It is possible to highlight important buildings, such as offices, post offices or schools.
7 The small models of physical buildings are clustered into urban blocks, which allows to update each district separately whenever there is a new building announced.
Technical specifications
width 1,600 mm / 5' 3"
length 2,800 mm / 9' 2"
height 700 mm / 2' 4"
weight 350 kg / 770 lbs
3 x 65" display
25 million pixels
175 animated effects
Material and production
3D model made of acrylic and polyurethane
3D print, laser cutting, CNC milling
plinth made of steel, glass, and wood
transportation cases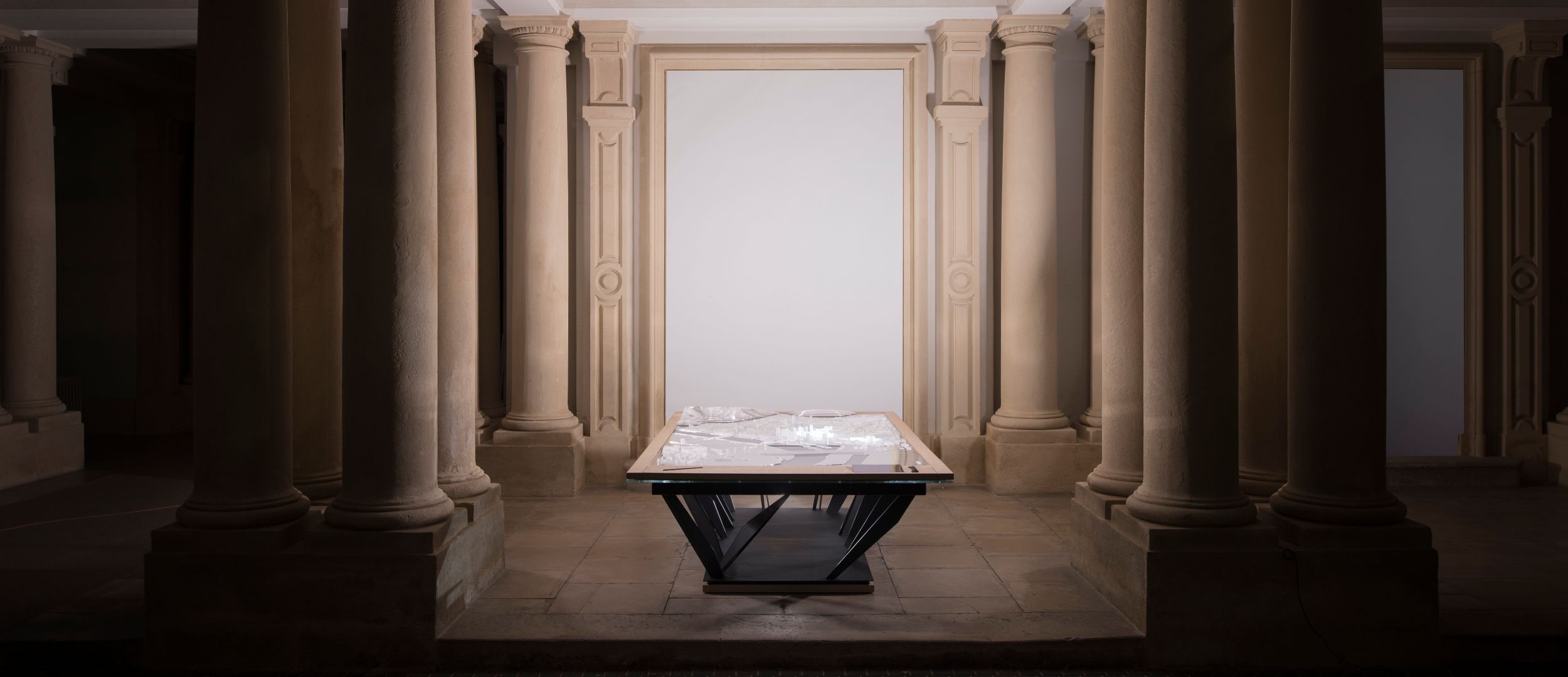 We pay attention to every single detail. For instance, the iPad controller has a metal plate with a HB Reavis logo on it and you can insert it into a charging cradle engraved directly into the model frame. It is held in place by a strong hidden magnet.
Public presentation
MAPIC 2017, 2018, 2019 Cannes, France

Real estate fair with 8,000 guests, 240 retail chain representatives, 2,000 property developers, and 1,000 investors from around the world (one of a kind model at the fair). time.

Days of Architecture and Design 2018, Bratislava, Slovakia

Exhibited at a public courtyard of the city hall.

Lobby HB Reavis, Bratislava, Slovakia

This permanent centerpiece welcomes the visitors of the client's headquarters.
---