SECTION model
A schematic section of the future bus station, shopping mall and office tower.
Take a bus to arrive directly at your work, have a coffee in a coffee shop, do your shopping and run your errands at the same place and even go for a jog on a green roof. All of that within a single building. These are the benefits which HB Reavis needed to communicate about their new development project – Stanica Nivy. A simplified section with a playful design proved to be an ideal form of presentation as well as a decent decoration wherever it was showcased.
Year: 2017
Type: Animated model
Stage: Design and production
Photo: Lenka Cisárová
Client:
Assignment
A new bus station integrated into a shopping mall and an office building is emerging in Bratislava. The developer, HB Reavis, needed to explain and emphasize the wide variety of services and uses offered by their new property. Our assignment was to create an attractive object presenting these benefits, using a jaunty animation placed into the schematic section of the building.
Technological solution
The project is built around a 75" screen playing an animation divided into 3 segments – 3 views of one story. The screen is covered with a layer of engraved plywood, which adds depth to the storytelling and aims the focus on the animation. The hardware equipment is hidden to prevent distraction, but at the same time it underlines the technologically advanced level of the model.
Maintenance and modularity
The model was delivered in a transportation case. We can easily transport it, hang it on the wall, build it into a cladding or place it self-standing in the middle of a room. Just like any other model we made, this one can be easily updated and we provide its regular maintenance.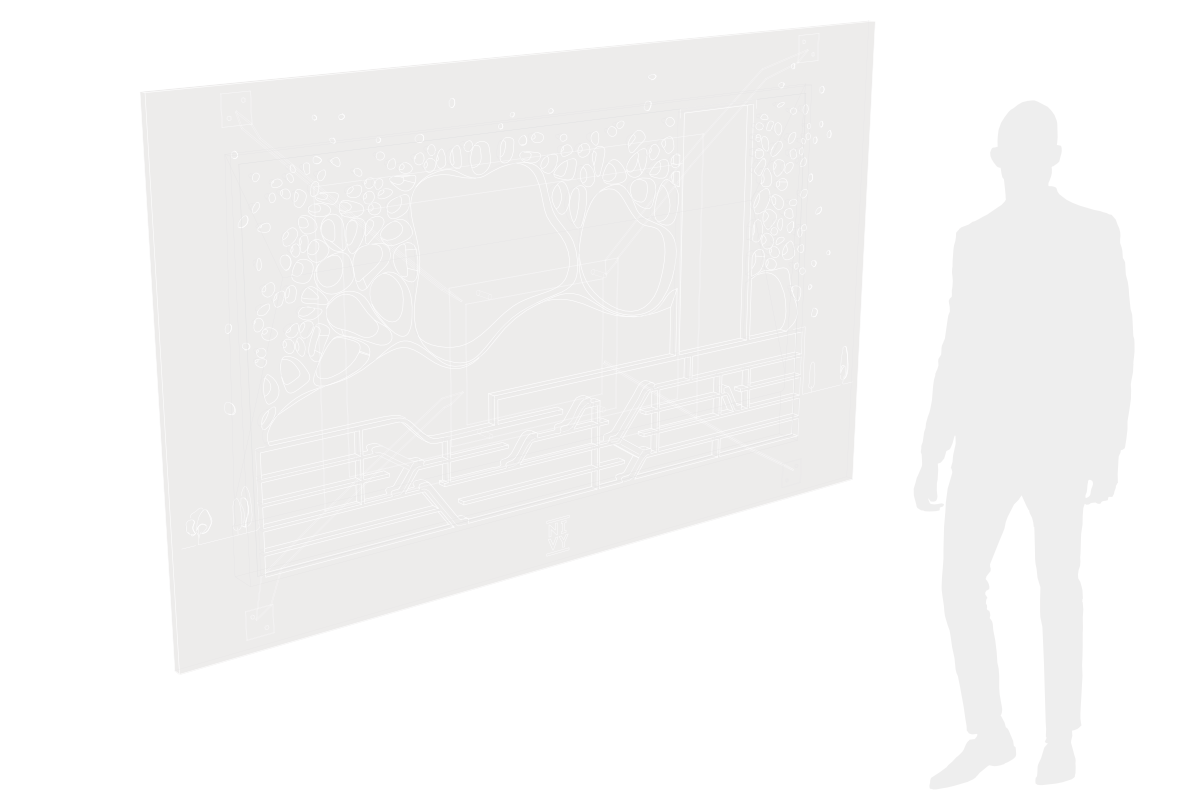 The lower part of the screen is subtly branded with the project's logo, engraved into the wooden board and underlit through the veneer.
Material and production
We used parametric software to shape the cut-outs. The individual openings have been milled as a spatial relief, which enabled us to create some depth. We created a strong structure of exuberant shapes and details while preserving a soft and delicate feel. We chose refined natural materials which complement the animation, are pleasant to touch and express the values and aesthetics of the building designed by a London-based studio, Benoy.
The animated section comes with a mount, which is solid enough although it seems delicate and airy. It is visually pleasing from all angles, so it is possible to use it as a centerpiece or hang it on a wall. The product can be easily transported and installed in various environments with no need for disassembly and calibration.
We designed the shapes of the individual openings with a parametric software. The wooden board is CNC milled according to digital input files, thanks to which we had full control over the shapes and varying inclinations of the cutouts. We achieved an exuberant, yet elegant overall expression.
Technical specifications
Depth 80 mm / 3.14"
Width 1,800 mm / 5' 11"
Height 1,200 mm / 3' 11"
Weight 35 kg / 77 lbs.
Material and production
Engraved veneer plywood
Steel mount
75" 4K display
5 min animation
Transportation case
The animation tells a story about Tony, a fictional architect, whose studio is in the office building above the bus station. In the morning, Tony arrives directly into the building by bus. He buys breakfast in a café and leaves for work. In the afternoon, he meets his family, they go shopping and Tony gets his daily run on the green roof of the building. His entire daily routine is thus satisfied at one place.
Public presentation
MAPIC 2017, 2018, 2019 Cannes, France

Real estate fair with 8,000 guests, 240 retail chain representatives, 2,000 property developers, and 1,000 investors from around the world (one of a kind model at the fair). time.

Days of Architecture and Design 2018, Bratislava, Slovakia

Exhibited at Archa Gallery, primate's palace.

Lobby HB Reavis, Bratislava, Slovakia

As a permanent installation at the client's headquarters.
---